Written By: Rochelle Archibald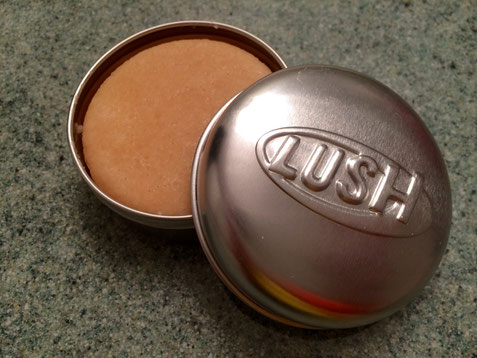 When my family asked me what I wanted for Christmas this past season I told them I wanted LUSH products. For those of you who aren't familiar with LUSH it's a handmade cosmetics company that sells bath bombs, soaps, shampoo, lotions, and makeup, among other personal hygiene and beauty products. Not only do LUSH products come in very little packaging (usually just wrapped in paper that can be recycled), they're also free of nasty chemicals, plus they smell wonderful! My family came through and I ended up with a wonderful stash of bath bombs, scrubs, soaps, and shampoo. It's comforting to know that I'm not soaking in a bath full of chemicals, and that when my eight week old baby chews on my arm he's not licking anything harmful. 
I had used some LUSH products in the past, but hadn't tried out their shampoo bar before receiving one for Christmas. When I was hiking in Europe I ended up using a bar of soap to wash my hair and the results were terrible (I only washed my hair twice in the month I was there because of this). My hair ended up as one matted knot that was impossible to brush and felt stiff as a stale baguette. So I guess I was a little reluctant to try any shampoo bar after that experience. But since I received this shampoo bar as I gift I figured I should give it a go and man was I surprised! My hair came out clean, soft, and smelling lovely. 
After telling my mom and sisters to go out and get a shampoo bar for themselves I went to my local LUSH to pick up a catalog. In the first few pages I found some great information and statistics about shampoo:
- Hair was washed with soap until the 30s when shampoo was invented
- By the 60s most people had stopped using soap and bought shampoo in a plastic bottle
- Currently 92% of Americans use shampoo adding up to 1.5 billion bottles per year
- Only ½ a billion of the bottles are recycled, leaving 1 billion to go to the landfill
A shampoo bar is only about 2 oz and lasts three times longer than the average bottle of shampoo (1 bar = 80 washes!!). Plus with the bar there is no bottle going to the landfill, no label to throw out, and no preservatives contaminating your body. They also come in 15 different scents including rose, jasmine, vanilla, orange, lavender, and cinnamon. Yum! Yum!
Over the past 20 years LUSH has sold enough shampoo bars to keep 15 million plastic bottles out of the landfills. Isn't that wonderful? Are you looking to make an easy environmental change in your life? Switch over to a LUSH shampoo bar and do your hair and the planet some good!