Written By: Rochelle Archibald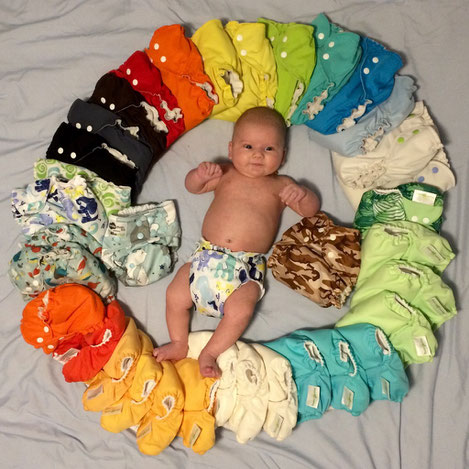 I'm a new mom. My son Linden is nine weeks old and he wears cloth diapers. Most people who know me knew I would go the cloth diaper route because I'm an environmental nut. But I did have a few people say "if it gets to be too much don't feel bad about switching to disposables" or "cloth diapers are for pioneers, technology has given us the gift of disposable diapers" or even "yuck, that sounds messy!" I really don't understand why there is such a stigma around cloth diapers. Disposable does not mean better. For me protecting the environment and my son's future is a much better option and I'm not the only one who thinks so. "I now use cloth diapers on my youngest because of the environment. It takes around 500 YEARS for a disposable diaper to break down, that means every disposable diaper made is still sitting in a landfill." Says Bryer Frederiksen, a cloth diaper user. Can you even imagine how many diapers that is? Aside from the environment there are many other benefits to cloth diapers, don't get me wrong there are some challenges as well, but there are two sides to every story and I'm going to tell the cloth diaper story here: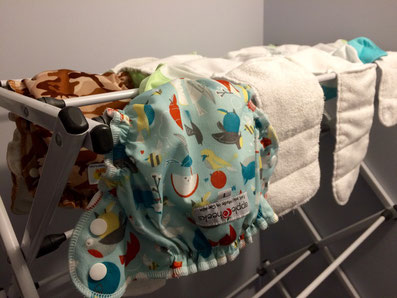 So what is the biggest motivator for cloth diapering? Saving money! The average investment for cloth diapers is between $300-$1,000 depending on brands and the number of diapers you'd like to have on hand. The average cost of using disposable diapers is $2,500 per child from birth to potty training. If you have multiple kids the savings increase as the cloth diapers can be passed down. Aside from saving money there are several other factors that make cloth diapers a great option. The strength and construction of the fabric allows for a better fit which helps prevent leaks and blowouts (poop explosions). There are no chemicals to worry about which reduces the likelihood that your baby will get a rash. Many moms (and some dads) actually enjoy the washing routine and find diaper laundry relaxing…I am one of those moms. There's nothing like taking something that's absolutely filthy and making it look new again, and then stuffing them and put them in nice little stacks. It might sound crazy, but it's one of the only tasks that actually gets completed now that I have a baby so it feels rewarding to get it done. Mom's take pride in their diaper collections and the cloth diaper community certainly shows it. There are some amazing cloth diaper support groups online with thousands of members who share diaper advice along with parenting advice, stories, and give-a-ways. Some family's diaper collections are in the hundreds!! I think my fiancé is already nervous that our house will eventually be stuffed to the ceiling with diapers and we're only two months in. Plus, if they're cared for correctly they have great resale value which makes them even more affordable in the long term and less scary for the parent who has a significant other with a diaper addiction. Now on to the environment. Do I even need to explain the environmental benefits? SO MUCH LESS GARBAGE IN THE LANDFILLS! There is also a reduction in the amount of wood, petroleum, chlorine and plastic used to make disposable diapers. And the transportation costs of shipping diapers from the manufacturer to the stores, home, and then to the landfill are also reduced. The amount of garbage at our house went from one bag a week with disposables to less than one bag a month with cloth. Plus, they come in a variety of colours and patterns to suit your little ones style or personality.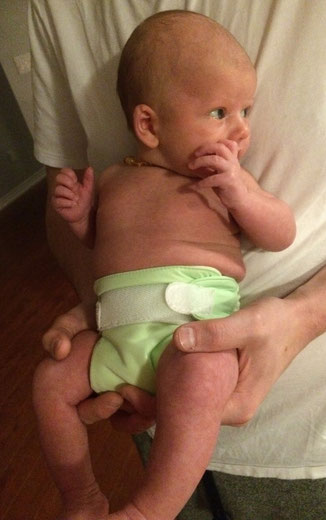 Now for the drawbacks of cloth diapers. There is a bit of a learning curve when it comes to finding the right fit for your baby, but putting a diaper on a baby for the first time isn't an easy task whether it's cloth or disposable. You might have to try a couple different brands, adjust the snaps or velcro, or reconfigure the stuffing materials, but eventually you will find the right combination that will hold in even the biggest explosion. The good news is that there are so many different brands and styles that there is a perfect fit for every baby bum out there. Next comes the wash routine. Yes, there is a bit more laundry to do but after you do it a few times you'll have a streamlined routine that you'll barely notice. Some worry about using a lot more water but with a high efficiency washing machine that isn't really an issue. Approximately 34 litres of water are required to manufacture just one disposable diaper(1) and you'd use much less than that washing a whole load of cloth diapers. The worst part, and the part that comes to mind for most people when they think cloth diapers, is disposing of the goodies. When babies start eating solids their poop needs to be sprayed or scraped from the diaper into the toilet. But think of it this way, no matter what kind of diaper you use eventually you are going to get some caca on you. Could this be motivation for toilet training? Last but not least: carrying dirty diapers around. They do make small wet bags to put in your diaper bag for day trips and larger wet bags that could be used if you go on a longer trip but this doesn't change the fact that you have to carry poop around. It's been said that cloth diapered babies learn to use the potty earlier than those in disposable diapers, maybe this has something to do with it.
Let's talk disposables. The biggest advantage is definitely convenience, especially when traveling and there are no laundry facilities available. They are also very compact, reducing the amount of baggage on outings (there's no extra room when you've packed everything except the kitchen sink…and the sink would probably come in handy if only it would fit). The composition of disposables makes them very absorbent, which is great for long periods when a diaper change isn't possible. And they're easier for babysitters or others who aren't accustomed to cloth to change. They sound great right? For some reason us humans have associated the word "disposable" with the word "better" as if something that can be thrown away is better than quality. Here are the top reasons why I wouldn't consider switching back to disposables:
So there you have it, my cloth diaper story. While disposable diapers may be convenient there is a time and a place for their use. Can you imagine how much waste would be diverted from landfills if everyone used cloth and just the occasional disposable? So what do you think of cloth diapers now? If you're having a baby or know someone that is maybe cloth can be considered. Cloth isn't for pioneers; it's for health conscious, environmentally minded, thrifty, families that aren't afraid of a little poop.
---
1 - www.gro-via.com/blog/washing-away-cloth-diaper-water-myth/#sthash.7GMyQIKZ.dpuf
2 - http://www.cheerfulcheeks.com/Earth