Lincoln
We started out at Charles Daley Park in Lincoln. There was definitely a party there this weekend. We found a bunch of beer bottles, liquor bottles, pop bottles, plastic shot glasses, unused condoms, drug bags (empty), cigarette packages, lighters, four syringes, and a lei. After picking all that up we moved along to the beach where we picked up plastic pieces for two hours. We could have stayed longer! Where is it all coming from? After lunch we went to the Grande Hermine Shipwreck in Jordan Station. There was a lot of litter that had probably blown off the QEW. Lots of food and beverage containers. Such a beautiful place! Go see the ship up close if you're in the area! We met lots of cool people today! It's nice to hear so many people appreciate what we're doing! In the pictures below you'll see a coffee condom, paper cups are often lined with wax that doesn't biodegrade. In the picture the paper is gone but the lining remains, this is why they're not recyclable. You'll also see a bunch of "Beach Whistles," we've been finding so many of them washing up. Why?
Stats
Total Pieces Collected:  1512
114 plastic bottle caps
124 straws
498 plastic pieces
108 foam pieces
Weird Things Found:
plastic gun, perfume, full can of juice, Hawaiian lei, comb, heating packs for in your mitts.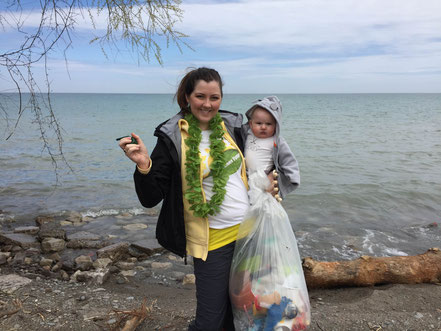 Locations
Charles Daley Park, Lincoln
Grande Hermine Shipwreck, Jordan Station
Find out where we'll be next by clicking HERE!
Look At What We Found: