Hamilton Day 2
We had a great day of cleanups! This morning at Hamilton Beach we were joined by some amazing volunteers! There was an unreal amount of litter that had been washed up on the shore. Tons and tons of plastic bits. We picked up 1,906 pieces and it didn't really make a dent in what was there along the length of the beach. I challenge someone in Hamilton to go back and have another go at it. Just make sure you wear long sleeves and pants because there are ticks. The ticks were so bad that we had to cut the second cleanup a little short. We did not want to risk getting bit. In the end we ended up with 2000 pieces which is a huge accomplishment!
The first week of cleanups is complete! Can you believe it? The next 9 weeks are going to fly by, and I hope we have the privilege of meeting more of you at the upcoming events. Burlington here we come!
Stats
Total Pieces Collected:  2000
203 cigarette butts
179 plastic bottle caps
1228 plastic pieces
53 foam pieces
Weird Things Found:
Hairspray, a coconut, golf balls, bike handle bar, mitten, a Greek flag, and two golf balls.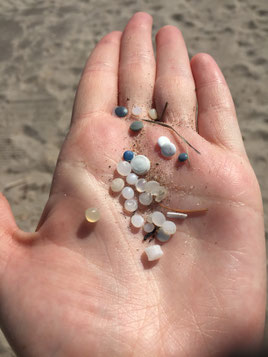 Locations
Hamilton Beach
Dieppe Veterans Memorial Park 
Find out where we'll be next by clicking HERE!
Look At What We Found: