Burlington Day 2
Today we finished up our cleanups in Burlington! We collected a grand total of 4,731 pieces of litter from the shores of Lake Ontario over the seven cleanups in Burlington. We had some great volunteers, gave out lots of buttons and pocket ashtrays, and had some amazing conversations with people along the way! It's so great to see kids out taking care of Mother Earth, they're hard little workers! We're off to Oakville next!
Stats
Total Pieces Collected:  2,007
1,011 cigarette butts
126 food wrappers
241 plastic pieces
276 paper pieces
Weird Things Found:
An egg with cheese, windshield wiper, leather belt, and metal tongs.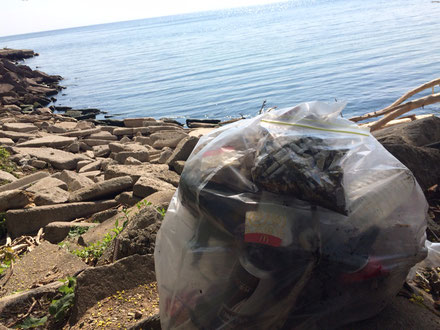 Locations
Port Nelson Park
Sioux Lookout Park
Paletta Lakefront Park
Burloak Waterfront Park 
Find out where we'll be next by clicking HERE!
Look At What We Found: