Oakville Day 2
We're back in Oakville after a few days off and it was a hot day! We went to three different locations to clean up and picked up a total of 1,205 pieces of litter. Overall the three beaches we went to were fairly clean and it was mostly cigarette butts and plastic pieces. We also found a couple casualties, a dead seagull and a nest of dead baby robins. My sister Ariel and I always give these poor souls a proper funeral and move them to a covered area.
We met lots of cool people today who were out walking. We gave them buttons and had some great conversations about litter.  We still have five more cleanup locations in Oakville! We hope to see some of you out there!
Stats
Total Pieces Collected:  1,205
357 cigarette butts
125 food wrappers
202 plastic pieces
111 foam pieces
221 paper pieces
Weird Things Found:
6 tiny parachutes, beach toy rake, lipliner, earring, salad bowl, comb, garden hose, teddy bear ear, custom made ear plug.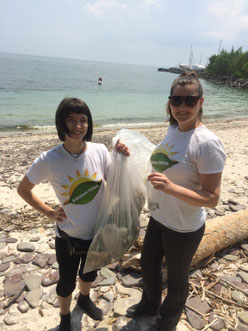 Locations
Bronte Beach Park 
Bronte Heritage Park
Water's Edge Park
Find out where we'll be next by clicking HERE!
Look At What We Found: