Port Credit Cleanups
It was so nice to get back out there to do some cleanups! We started off the morning at JC Saddington Park with some amazing volunteers including the wonderful Trash Walking Mom, Cindy Wilding! There was a lot of litter stuck in the rocks, and a bunch of cigarette butts in the parking lot. After having a snack at Planet Organic we did cleanup number two at JJ Plaus Park. A bazillion cigarette butts here and lots of stuff in the water which was very hard to get to. We met up with Susan from Community Captured Magazine near the end of our cleanup, we'll be featured in next month's issue! The final park of the day was Tall Oaks. There was a ton of styrofoam that had washed up on the shore. We also encountered our first unpleasant bystander. I approached a man sitting on a bench smoking a cigarette and offered him a pocket ashtray. He declined so I asked him where he puts his butts and he told me to mind my own _______ business and ____ off! Well if that isn't an overreaction due to guilt I don't know what is. Karma is going to get this guy, I just know it. After that he watched us pick up 300 cigarette butts from the park, hopefully feeling like a complete jackass. We didn't let this get us down, I think it motivated us to pick up every last butt, even the one next to his shoe that he dropped. Plus we met a TON of amazing people today who stopped to chat or thanked us for our hard work. So if I come running up to you in the future to give you a pocket ashtray please just accept it. I don't care what you did in the past with your butts, I just want to give you another option for the future. An eco-friendly option that keeps the parks clean, the wildlife healthy, and the future greener.
Stats
Total Pieces Collected:  2,600 pieces 
1,162 cigarette butts
87 food wrappers
195 plastic pieces
738 styrofoam pieces
Weird Things Found:
a lighter with boobs, pylon, candle, Croc shoe, control valve, and an Egypt Air blanket.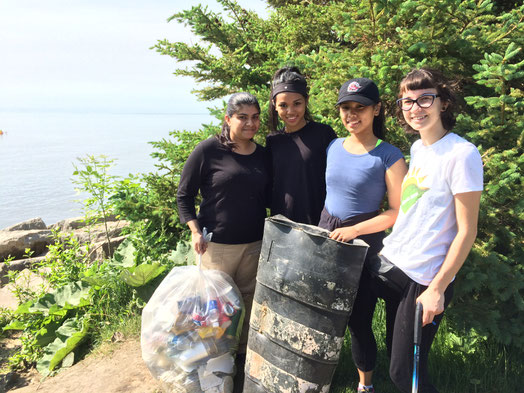 Locations
 JC Saddington Park
JJ Plaus Park
Tall Oaks Park
Find out where we'll be next by clicking HERE!
Look At What We Found: