Port Credit Cleanups
It was a grey day, but still a good day for litter picking because the rain held off. I think the weather might have kept some of our volunteers at home. We were lucky to have Cindy the Trash Walking Mom come join us in Hiawatha Park. We picked up way more stuff than we expected and we were only there an hour. We were joined by Bob from Snapd Mississauga South who interviewed us and took a few pictures for the paper. Mike was over at The Adamson Estate where he found 560 pieces of litter in a tiny stretch of beach, including a syringe. It's crazy how many tiny pieces end up on the shore among the rocks. Last but not least, we went over to Ae Crooks Park and Lakeside Promenade Park where there was a ton to pick up, but we had to cut the cleanup a little short because the wind picked up as a storm was approaching. It was a fun day full of adventure and lots of laughs. We would just like to mention that the Mississauga city staff are so friendly and helpful!
Stats
Total Pieces Collected:  1,336 pieces 
133 food wrappers
55 plastic drink containers
231 plastic pieces
240 styrofoam pieces
Weird Things Found:
Twilight blanket, dish scrubber, thermos, hospital bracelet, dog dish, golf club, a white rose, baseball skin, comb, candle, coconut, uneaten Werther's Original candy, and a rain poncho.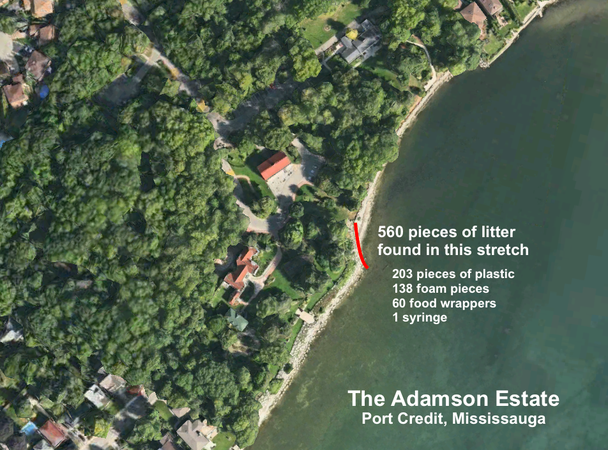 Locations
Hiawatha Park
The Adamson Estate
Ae Crooks Park
Lakeside Promenade Park
Find out where we'll be next by clicking HERE!
Look At What We Found: