Last Day in Mississauga
It was our last day in Mississauga and we were joined for the day by our wonderful volunteer Katie! ! Our first location was Malton Greenway which is a forested pathway that goes between houses and shops. It seemed pretty clean until we got to the "party spot." There was a little clearing on the side of that path that had seen a few parties. There were a ton of cigarette butts and beer bottle caps squished into the ground. That's where we found the fake finger nail. There was even a little table to set your drink on. The place looked a lot better by the time we left, but it will only take a few more parties until it's back where it was. Our second stop was at Crooksville Creek which is another nature path that runs through R. Jones Park. We had a beautiful wander through the forest and saw lots of wildlife; birds, squirrels, and ducks. It was a great way to finish off in Mississauga. Lots of adventures to come as we head in to Toronto next!
Stats
Total Pieces Collected:  2,071 pieces 
1,284 cigarette butts
157 food wrappers
46 grocery bags
117 plastic pieces
160 paper pieces
Weird Things Found:
candle, weird food pack, and a finger nail.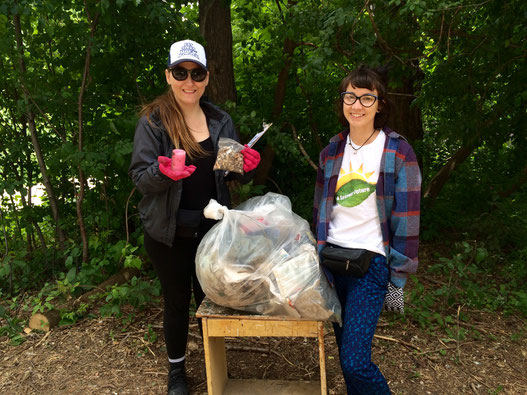 Look At What We Found: