Written By: Cindy Wilding, Trash Walking Mom
Whether it's a straight up cup of "joe", a "double double" or a delicious latte, we Canadians just can't seem to get enough coffee. It fuels our mornings, gives us a reason to get together with friends, and is a staple at office meetings across the country.
I "trash walk" regularly in my neighbourhood, picking up other peoples' garbage, and with photos and commentary, I document my efforts on my Facebook page, Trash Walking Moms. 
Judging by the trash that I pick up, it is quite apparent that Canada's favourite spot to grab a coffee is Tim Hortons.  
According the the website insidetimmies.com, each year, Tim Hortons serves 2 billion cups of coffee, 8 out of 10 coffees poured in Canada come from Tim Hortons, and there are now over 4,350 locations worldwide, with 3,500 of them here in Canada. 
In March of 2015, because I was picking up so much Tims litter, I created a photo gallery devoted entirely to Tim Hortons trash.  That year, I ended up documenting 583 pieces of trash originating from Tims, and so far this year, I have documented 317 pieces.
Am I saying that all Tim Hortons customers are litterers?  No, of course not.  I do find take out cups from other chains, but Tims trash is by far the most prevalent coffee related trash.  The majority of customers will properly dispose of their take out cups and lids in a proper fashion, of course they will.  Just what is the proper way though?  There seems to be a great deal of confusion as to whether the cups and lids are recyclable.  Theoretically, they are, and most Tim Hortons restaurants you visit, have recycling bins available for depositing take out cups. Recycling capabilities vary greatly from one municipality to the next though, and the process for separating the inner plastic layer (yes, there is a plastic layer in your cup) from the outer cardboard is costly, and so many cups that you might believe are being recycled are in fact going to landfill.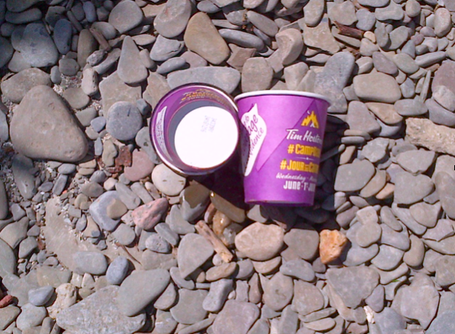 So, is there a solution to coffee related trash?  My own solution goes like this.
Each morning, I make a pot of coffee at home.  It's like a ritual.  My wife and I enjoy our first cup of coffee as we go through our morning routines, and we bring a second serving in a re-useable mug as we leave home en route to work and errands.  
By consuming coffee from re-useable containers, one family is not putting 28 cups per week in to landfill.  There is a good feeling that comes from this small act of refusing single use, and I am so happy that my family has adopted this habit. 
Using math again, there is a great financial incentive to refuse single use.  If a household (like mine) consumes 4 cups of coffee per day, x 7 days a week at a minimum price of $2.00 per cup, they are potentially spending $56.00 per week on coffee!  Even if you initially need to purchase a coffee maker and a couple of reusable mugs, the savings over time will add up quickly.
Some days, at around 2:00 pm, I will crave an afternoon coffee.  If  I'm out, and have my travel cup with me, I simply take it to my local coffee shop, where the server will rinse it, and fill it again.  In an effort to promote this environmentally responsible behaviour,  most chains, including Tims, will offer a ten cent discount on a coffee poured into your own cup.  I wonder if, by advertising this practice, coffee chains would see an increase in people bringing their own containers? Maybe?  Personally, I'd like to see chains charge 5 or 10 cents for each disposable cup, and then put that money towards local litter cleanups.  Would a cup fee encourage more people to bring their own cups?  I don't know, but I think it is something worth looking at.  
Back to my 2:00 pm coffee craving for a moment.  What if I don't have a re-useable mug with me?  A dilemma!  I really, really want that coffee!  Now, this may be hard to do for some, but my solution is to either suppress my craving until I get home or, if  I have some time, I will ask for my caffeine boost in a ceramic mug, and will sit in the coffee shop to enjoy it.  A side benefit to this solution is that this slows me down for a few minutes.  In our busy lives, slowing down and appreciating your surroundings, regrouping, taking a moment,  is just so beneficial to your state of mind, and I highly recommend this practice, whenever possible!
Right now, our world is in a war with litter, and much of this is due to our seemingly insatiable desire for convenience.  More and more people are waking up to the reality that we just can't continue in the way that we use items and then quickly discard them, if we want to leave any kind of  beautiful, life sustaining planet for our kids, grand kids, and great grand kids.  If we all make a conscious decision to choose re-usable over disposable in our coffee drinking ways, we will have won a small, but significant battle in this war.  Please think about this the next time you want a coffee, Canada!
---
Cindy Wilding is a trash walking mom in Mississauga, ON. She documents the incredible amount of garbage she picks up daily, either as part of a dedicated trash walk, or just while going about her regular day.  Visit Trash Walking Moms on Facebook to see what she's found now! 
---
Enter to Win!
Stainless Steel TimMug & $25 Tim Card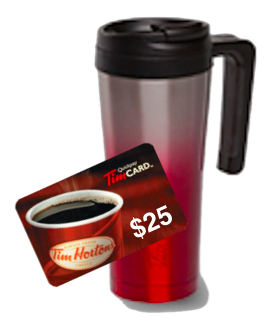 Open  to residents of Canada 13+
Contest closes July 23, 2016 at midnight
---