Butt Beach!
The Ajax cleanups went by fast and furious. We were happy to find that the general appearance of the parks was fairly clean and the city maintains the easily accessed areas quite well. We found most of the litter along the shoreline in areas that were harder to get to and not likely to be cleaned by the city. These areas were obviously still accessible to the public because we found lots of litter, in some places there was more than we could pick up. We also found three syringes, lighters, cigarette butts, alcohol bottles, drug bags, condoms, and clothing in these spots. I don't want to rat anyone out but it definitely looked like we found a few teenager hangout sites. The syringes were at Veteran's Point by the bridge and at Ajax Lakeside Waterfront Park down by the water. What shocked us even more than the condoms and drug paraphernalia was the sheer number of cigarette butts. At Pickering Beach we picked up 700 butts and that probably wasn't even one tenth of what was on the beach. Smoker's really aren't getting the message about how dangerous this is. Birds, fish and dogs eat these and can get very sick and even die. Not only that, the toxins leach out of the butts contaminating our drinking water. If one cigarette butt per litre of water can kill the fish in a stream, what can 700 butts in a few metres of beach do to humans? Some of these toxins can't be filtered out of our drinking water at the filtration plant. People need to speak up if they truly want clean drinking water. Smoking should be banned at the beach, and littering laws need to be enforced. Sorry smokers, I have nothing against you smoking, just PLEASE do it in a responsible way that doesn't impact everyone else. If you'd like a pocket ashtray send me an email at agreenerfuturecanada@gmail.com. They give you a place to store your butt until you get to a garbage can, they hold the mess and smell in, and they're completely reusable.
There's still time to enter our contests! Enter our Tim Card and Mug contest HERE! And our Beach Bag contest HERE! And if you've come out to a cleanup you can receive 5 entries for the Beach Bag PER cleanup you attend!
Stats
Total Pieces Collected: 3,255 pieces 
1,379 cigarette butts
228 food wrappers
385 plastic pieces
484 foam pieces
Weird Things Found:
some sort of explosive that had exploded (wires, cardboard, tape), underwear, foundation makeup, coloured bubbles, a vase, household oil, contact cement, mouth guard, fake hotdog, reptile calcium supplement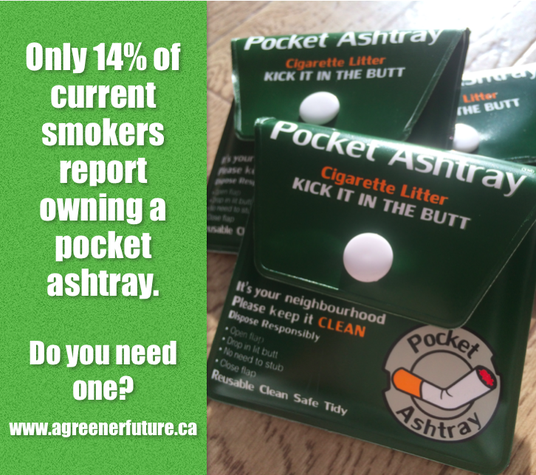 Locations
Rotary Park
Lion's Point
Veteran's Point
Pickering Beach Park
Ajax Waterfront Lakeside Park
Find out where we'll be next by clicking HERE!
Look At What We Found: