Cleaning up Clarington
Our first cleanup at Courtice Road beach was a lot of fun! We had some great volunteers join us and found a lot of stuff! It was a beautiful place but could really use a municipal garbage can somewhere. It seems as though someone was doing some target practice as we found lots of shotgun shells. We found lots of other weird things like night cream and a chicken recipe. People are doing some weird things down at the beach. We also stopped in at Darlington Provincial Park for a quick cleanup. We found a lot of small things here and decided to make a bit of artwork. It may not be the best piece of work you've ever seen but it was nice to spend some time enjoying the waves, watching the birds, and stretching out in the sun. 
There's still time to enter our contests! Enter our Tim Card and Mug contest HERE! And our Beach Bag contest HERE! And if you've come out to a cleanup you can receive 5 entries for the Beach Bag PER cleanup you attend!
Stats
Total Pieces Collected: 1,046 pieces 
83 cigarette butts
70 food wrappers
119 plastic pieces
334 foam pieces
167 paper pieces
Weird Things Found:
door hinge, shotgun shells, a marble, oil jug, broken cell phone, night cream, cooking instructions for chicken, glass bowl, Edible Arrangements Plaque, tent peg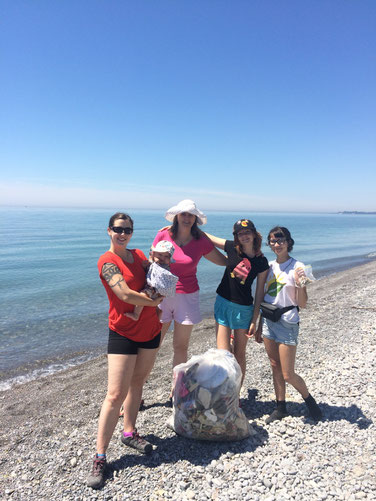 Locations
Darlington Provincial Park
Courtice Road Beach
Find out where we'll be next by clicking HERE!
Look At What We Found: