Cleaning up Cobourg
Our day in Cobourg was one of our best days yet for this project. We had the most volunteers (31) and the biggest cleanup so far (2,794 pieces at Cobourg Beach)! We started off at Monk's Cove Park which looked pretty clean at first glance but we ended up finding A LOT of stuff! Including one of the strangest things we've encountered so far: a dead cat in a bag. It didn't look injured so we're assuming it died of natural causes and then it's owner didn't know what to do with it.
It was a busy day in Cobourg as it was a beautiful Saturday and everyone wanted to soak in the sun on a gorgeous beach. It's amazing how much litter can actually be found when you're looking. You probably walk by it and don't even notice it there anymore because we're all so used to it being there. Next time you go for a walk take a closer look at the ground. Guaranteed you'll see cigarette butts, but you'll probably notice a lot of other little things too. So what's the best way to prevent all this stuff from ending up on the ground? Minimize waste of course! It makes a huge difference when people choose to bring snacks to the beach in reusable containers, drink out of reusable cups and mugs, and bring everything along in a reusable bag. There's simply nothing to leave behind. It's an easy solution, and can have a huge impact. 
There's still time to enter our contests! Enter our Tim Card and Mug contest HERE! And our Beach Bag contest HERE! And if you've come out to a cleanup you can receive 5 entries for the Beach Bag PER cleanup you attend!
Stats
Total Pieces Collected: 3,493 pieces 
1,784 cigarette butts
344 food wrappers
351 plastic pieces
429 paper pieces
Weird Things Found:
fairy wand, ruler, temporary tattoo, yearbook beachball, kidney bean, hockey puck, dead cat in a bag, underwear, an egg shell, tea light, watch battery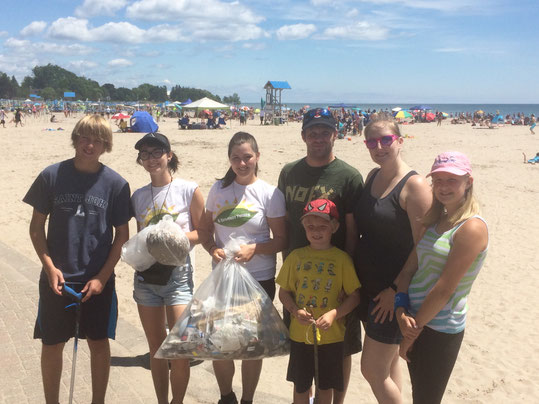 Locations
Monk's Cove Park
Cobourg Beach
Lucas Point Park 
Find out where we'll be next by clicking HERE!
Look At What We Found: