The Butt Blitz Journey Begins!
By: Stefania Mustillo, Butt Blitz Coordinator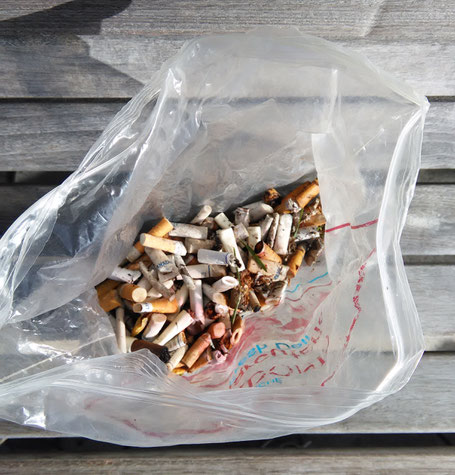 I live in an independent city on the island of Montreal called Westmount. It is relatively clean although certainly not without its litter. However, I noticed that there was a cigarette butt accumulation just outside of a cafe located in our arena which is at the south side of Westmount Park. On the way there (less than a 3 min walk), I only found 3 butts, all one by one. But once outside the cafe, I found 199. These 202 were picked up in a span of 20 minutes. It's interesting to note that the arena and cafe are certified LEED silver for innovation. The cafe itself is furnished with re-used items. 
I then walked 10 more minutes into the next neighbourhood (Nôtre-Dame-de-Grâce) where I only found 8 more butts, 2 at the park exit and 6 along the street. 
General observations are that these areas are relatively clean but not without high concentration areas. 
Location
Westmount Arena
Montreal, Quebec
Canada
Picked up by: Stefania Mustillo
Total: 212 butts
Butt Blitz 2017 Update
Coordinators
We will be looking for coordinators who would like to host Butt Blitz Cleanups in their own city or town! Keep your eyes peeled for our volunteer posting!
Volunteers
We will be looking for volunteers to participate in Butt Blitz events across Canada. Your job will be picking up those pesky butts. Registration will be opening in the new year!
Details
If you have questions about the Butt Blitz event please send us a message! We will be revealing more details as we come closer to event day but are looking for partners to join forces and make this year's event spectacular!