Litter-Free Communities for the Environment & Soul
Written By: Stefania Mustillo, Butt Blitz Coordinator
As the snow receded with a second consecutive warm January here in Montreal, the ugly cigarette butts lying beneath reared their ugly heads on the small lawn space in front of my apartment building. What was most surprising was just how many there were for an area that has relatively low foot traffic. We know that cigarette butts are toxic and that this toxicity can wreak havoc on wildlife and our waterways. But there is another side to this and all types of litter that is affected as well: aesthetics. 
I would never argue that beauty is more important than the well-being of the environment but I know that seeing litter on the ground personally affects my mood. I feel agitated when I see flowers and plants surrounded by garbage. I feel angry that the place where I live is disrespected. That our surroundings have become an open air ashtray is counterintuitive to me. This is why as the snow stayed at bay, I decided to pick up every single butt on the front lawn of the building. It took only 15 minutes and 67 butts were collected. As you can see from the picture, there are many of the thin-type cigarette butts. These were all bunched together in the same spot against the wall, the furthest place from the sidewalk and far from the entrance walkway. The rest were spread across the grass on either side of the entrance.
It is understandable that cigarette butts are difficult to carry around unlike, for example, an empty chip bag or plastic bottle that could be stored easily until the next garbage bin is found. However, there are little pocket ashtrays made expressly for cigarette storage that allows for safe and easy transport until they can be appropriately disposed of. They can be ordered from BrainGarden.ca or pick one up at one of our Butt Blitz events on May 6th across Canada.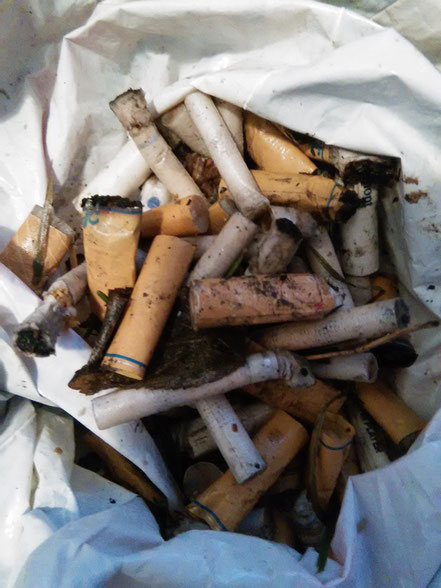 Whether you're a smoker or not, a little could go a long way if we collectively come together to keep our communities clean. Neighbourhood green spaces are known to have great benefits such as a better sense of community, decreased stress, increased property value, lower crime rates, and overall well-being (Source: 1 and 2). Keeping these spaces clean will ensure that their beneficial properties can reach their maximum potential. Just a few more reasons to keep butts and litter off the ground!
---
About the Author
Stefania Mustillo holds a BA in Geography from Bishop's University and is a recent graduate of McGill University's MSc Integrated Water Resources Management program. A native Montrealer, Stefania is interested in promoting civic pride: enjoying what big cities have to offer while also keeping them clean and green. She will be assisting with the 2017 Butt Blitz event which we're sure will be bigger and better than ever! If you have any questions about this year's event, or if you'd like to participate/coordinate an event in your city Stefania is the person to contact. You can reach her through our contact form or email butt.blitz.canada@gmail.com.
---