Excitement is Brewing!
Written By: Stefania Mustillo, Butt Blitz Coordinator
As the Butt Blitz 2017 event approaches, excitement is beginning to brew among Greener Future team. On May 6, our goal is to almost double the amount of butts that were picked up last year. That means we hope to pick up at least 200 000 butts for this third edition of the event. However, this year we have more co-ordinators than ever organizing teams from left coast to right coast so I'm starting to get a little bit dreamy about going beyond our goal; why not? For those of you who have already signed-up or for those who are thinking about joining, here is a little rundown of what this event is all about.
For those of you wishing to participate, you can contact me, Stefania, at butt.blitz.canada@gmail.com and I can either give you information on how to co-ordinate a team or redirect you to a team already in place. Also visit our Facebook event page or our Butt Blitz Page on A Greener Future's website for more details. We really hope to see as many of you out there as possible so spread the word!
Join the Butt Blitz on Facebook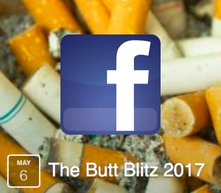 ---
---
Stefania Mustillo holds a BA in Geography from Bishop's University and is a recent graduate of McGill University's MSc Integrated Water Resources Management program. A native Montrealer, Stefania is interested in promoting civic pride: enjoying what big cities have to offer while also keeping them clean and green. She will be assisting with the 2017 Butt Blitz event which we're sure will be bigger and better than ever! If you have any questions about this year's event, or if you'd like to participate/coordinate an event in your city Stefania is the person to contact.
---