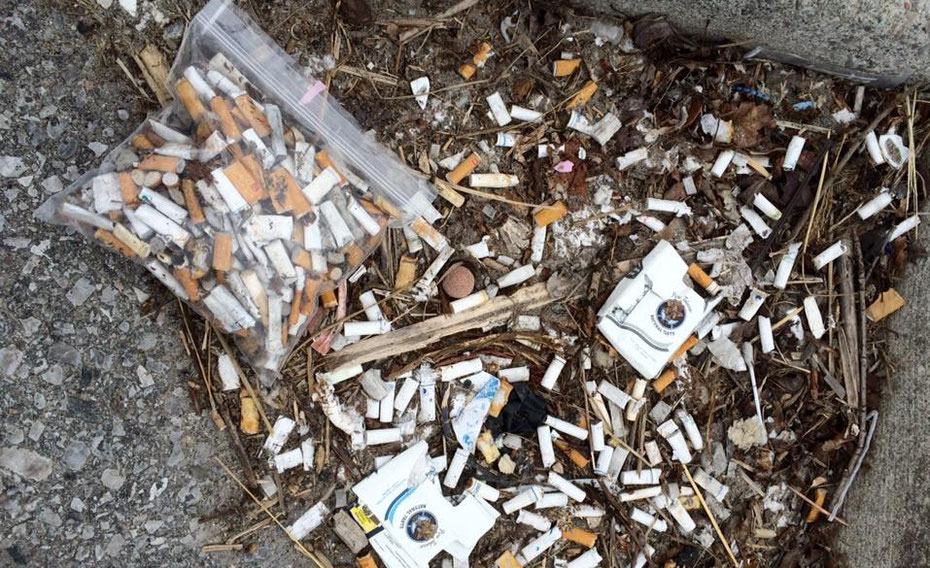 Written By: Stefania Mustillo, Butt Blitz Intern
The first time I ever saw a pocket ashtray was when I was travelling in Japan about 10 years ago. I was surprised by this little contraption that held cigarette butts until they could be properly discarded. I have always believed that big problems have simple solutions, and this was a great example. 
However, since that trip, I hadn't seen another pocket ashtray until beginning my work with A Greener Future. Frankly, I'm not sure many people know that they exist. There are many varieties but the little pouch version with a snap flap is the most common and versatile. The inner material is an aluminum lamina that helps extinguish a lit butt. Furthermore, its design is such that the butt itself as well as the ashes have no way of spilling out while also locking in odour 1.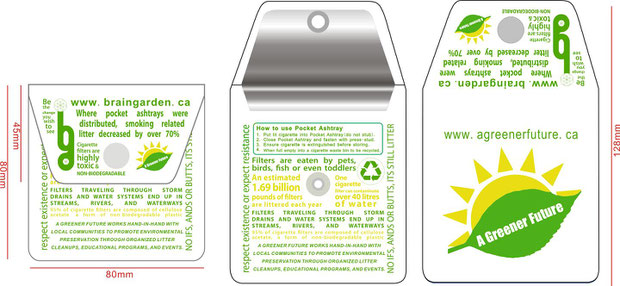 Pocket ashtrays designed for A Greener Future by BrainGarden.ca to be distributed at Butt Blitz events across Canada May 6th, 2017.
Some cities like Nanaimo, B.C. have taken matters into their own hands. In 2015, a pilot project in the City gave out 200 pocket ashtrays to smokers in an attempt to mitigate litter caused by cigarette butts 2. For the Butt Blitz 2017 event happening on May 6, A Greener Future would like to do the same. We are partnered with Brain Garden, an organization that produces custom made pocket ashtrays. I had the chance to catch up with co-founder Jack Elliman who says that the concept of his business grew from learning about just how toxic one cigarette butt could be. After seeing how many were littered, especially at music festivals, he decided that the best way to fight this issue was through education. He began engaging with concert-goers and handing out pocket ashtrays at various festivals. He says the outcome of his efforts were immediate: "Being aware of our ecological footprint and the empowerment of working in solidarity to make the world a better place is infectious! We found that after our educational outreach missions the festival grounds would actually stay cleaner, people stopped littering anything at all." Festival organizers also took note, and Jack was invited back to continue to spread his good word.
1. Collection from Butt Blitz Pickering 2016    2. Envirocana Pocket Ashtrays from Butt Blitz 2015/2016    3. Butt Blitz Victoria, BC Event 2015
Like Brain Garden, A Greener Future also believes in the power of education and awareness. We both agree that events like the Butt Blitz bring light to the cause in a very real way. Passerby can be engaged and be made aware of both the impact of littered butts in the environment as well as the existence of pocket ashtrays that can help reduce this type of pollution. We hope to get these ashtrays, custom-designed by Brain Garden, out to all of our co-ordinators across Canada. To make this possible we are currently hosting a small change fundraiser to help with shipping. Working together for a cleaner Canada can create impactful long term results we can be proud of.
---
Stefania Mustillo holds a BA in Geography from Bishop's University and is a recent graduate of McGill University's MSc Integrated Water Resources Management program. A native Montrealer, Stefania is interested in promoting civic pride: enjoying what big cities have to offer while also keeping them clean and green. She is assisting with the 2017 Butt Blitz event which we're sure will be bigger and better than ever! If you have any questions about this year's event, or if you'd like to participate/coordinate an event in your city Stefania is the person to contact.
---