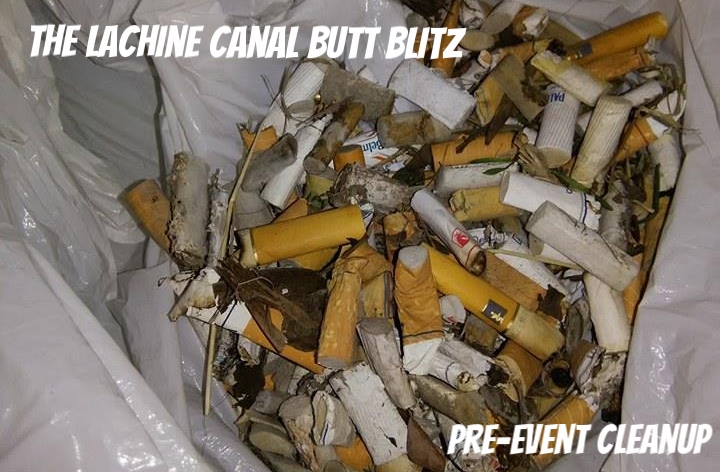 Written By: Stefania Mustillo, Butt Blitz Intern
In anticipation to this Saturday's nation-wide Butt Blitz event, I decided to go and check out the area where I will be doing my cleanup which is the historic Lachine Canal in Montreal's Sud-Ouest (South-West) borough. Part of the Parks Canada network, the Lachine Canal is a place where Montrealers and tourists alike gather to cycle, boat, go for a stroll, or sit on the grass to munch on the delicious treats they found at Atwater Market. The reason why I chose this location is because the health of our waterways is important, and became increasingly more urgent to me after completing a masters in water management. 
I arrived on the north side of the canal just in front of Atwater Market. There is a train track that runs alongside the north bank of the canal and a little bridge connecting the north and south sides. Besides a train track and a bridge, there are cigarette butts, lots and lots of them, especially right at the bridge. I was ready for my pick up when suddenly, I realized the bag I had brought to store them in had flown away somewhere due to the incredibly high winds on this sunny Sunday. I also noticed my gloves weren't in my bag. I thought I had lost them, too. 
 Of course, and rather sadly, it was easy to find another plastic bag lying around and made due with picking butts up with the bag itself. Desperate times certainly called for desperate measures. I started the pick up officially at 2:55pm and ended at 3:20pm. In that time, I wandered from the bridge to pick up scattered butts but there weren't that many. It was when I came back that I picked up the lion's share of my loot, ending with 140 butts picked up in 25 minutes. I also picked up 2 plastic soda bottles, a plastic utensil, a piece of scrap plastic, and a fast food disposable cup and lid to make up for my lost bag which is probably (and woefully so) still flying around somewhere. 
The high winds were definitely detrimental to a more efficient pick up as butts would fly away from me and my too big of a bag fluttered to the beat of its own drum. Risking a possible forced move to Toronto after an exceptionally strong gust, I decided to start my walk back home but not without picking up another 40 along the way for a grand total of 180. When I got home, I realized I had left my gloves on my sofa all along. Classic Stefania.
If you are interested in joining any of our teams across Canada, there is still time to do so! Last year, we picked up 122 000 butts and we want at least 200 000 this year. Let's make it happen!
---
Stefania Mustillo holds a BA in Geography from Bishop's University and is a recent graduate of McGill University's MSc Integrated Water Resources Management program. A native Montrealer, Stefania is interested in promoting civic pride: enjoying what big cities have to offer while also keeping them clean and green. She is assisting with the 2017 Butt Blitz event which we're sure will be bigger and better than ever! If you have any questions about this year's event, or if you'd like to participate Stefania is the person to contact.
---