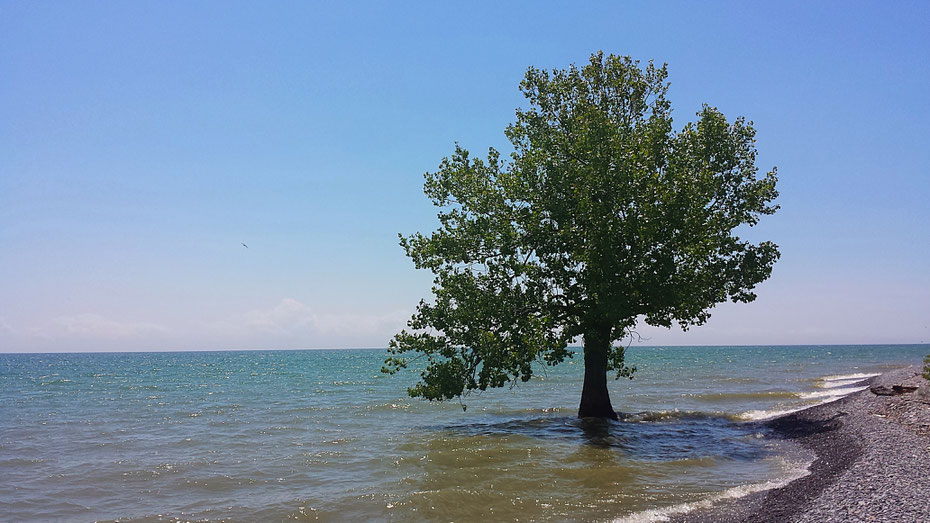 Love Your Lake is always a fun project to run. Our team gets to explore the shores of Lake Ontario from one tip to the other. As we travel from one cleanup to the next our bond with the Lake becomes stronger. We appreciate everything that the Lake is; wildlife habitat, drinking water, a place for recreation, and a place to relax and reflect. By the time we reach Prince Edward County, which is about 3/4 of the way from the starting point in Niagara-on-the-Lake, we are fully enveloped in the spell cast by the Lake's presence. This year Prince Edward County (PEC) was an exceptional experience, let me tell you why.
Jessie (Board Member) and I (Rochelle, Executive Director) departed from our friends and family after a weekend of camping at Presqu'ile Provincial Park. With so many cleanups being cancelled due to high water levels, flooding, landslides, and construction we had some cleanups to make up. We couldn't spend our time commuting from Toronto and back and expect to get all the cleanups done so we hit the road in our beautiful Honda Civic donated by the Honda Canada Foundation. We didn't have an exact plan, we just knew that we had to get 25 cleanups done within five days in order to reach our goal.We set out on the open road stopping in Trenton to do a few cleanups then crossing the Bay Bridge into PEC.
Lake on the Mountain
This was our first up close look at Prince Edward County. We stopped to take a peek at this tiny roadside park and were amazed by how much litter we actually found. There are no garbage cans in this park and there's a sign that says "Help keep this park clean by taking your garbage with you," but some people just aren't very considerate. We picked up 471 pieces of litter including 298 cigarette butts. We were also amazed at how big the park actually is when you walk across the street and look at the map, it's 103 hectares. The park includes the whole lake which sits sixty metres above Lake Ontario and has a constant flow of clean, fresh water, with no apparent source. This was our first taste of how magical Prince Edward County really is.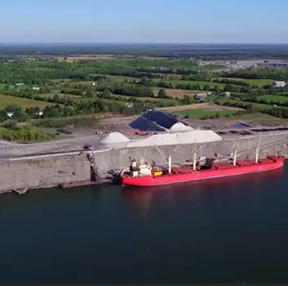 H.J. MacFarland
We saw at least 100 Save Picton Bay signs as we drove around the Picton area. It wasn't until we went to the H.J. McFarland Conservation Area that we found out what this was all about. From the boat launch you can see the huge aggregate piles and sheared cliff sides of the Picton Terminals. This is a shipping port used to export and import various aggregates, road salt, steel, and other materials. It is obvious that this business has changed the landscape of the Bay which draws up environmental concerns. We picked up 349 pieces of litter but wondered what what the health of the Bay will be in the years to come. I spoke to a representative at the Picton Terminals who stated they are working on several initiatives that reduce or eliminate local environmental contamination.
Rotary Beach
When we arrived in Wellington we made a pit stop at Tim Hortons to refill our mugs with some hot liquid energy. We overheard some municipal workers say they were headed to clean the beach and thought, "Yes! Extra help!" When we arrived there was a ton of heavy equipment on the beach, raking, plowing, and removing debris. We started picking up in the areas the bulldozers couldn't go and managed to collect 378 pieces in less than an hour. The stuff washing up included a ton of plastic, helium balloons, lots of fishing gear, and a shower curtain. We later realized we were a day too early to see the Royal family visiting. Is that what it takes to get a beach cleaned up by the municipality? We're hoping they had plans to get the job done regardless of any royalty in the area.
The Edward
We are so thankful to The Edward B&B for providing us with a complimentary stay while on our journey. This was certainly one of the biggest highlights of the project. After two rainy days of camping in Presqu'ile Provincial Park and five cleanups we arrived at the beautiful east coast inspired home. Smelling like bonfire and wet animals we were greeted warmly by our hosts. The house is beautiful inside and out. We were led to our suite where we showered and changed before heading out to dinner in Picton. We scouted out a couple places for cleanups on the drive back. In the evening we sat in the living room to have some tea and conversation with our hosts. The time slipped by as we chatted about life. In the morning we were greeted with the most delicious vegetarian breakfast we had ever eaten, including freshly baked muffins made just for us! The hosts at The Edward are the most kind and welcoming people. They definitely made the right decision in starting a B&B. If you're planning a visit to PEC make sure you book your stay at The Edward! But for now check out their Instagram!
Sandbanks Provincial Park
We camped for two nights in Sandbanks. We didn't book ahead so we didn't get to choose our site but were happy with the one we were given. Life is challenging, especially when camping. We unpacked our wet tent and went to blow up our air mattress when we realized there was no electricity anywhere near us. We hiked about a kilometre to the closest laundry room, blew up our mattress and carried it back to our site like a siamese twin snail. We decided to make tea and the propane canister for our stove went haywire and started spraying out the top like Old Faithful. Frozen with a defective explosive in my hands, both our jaws dropped and Jessie says "Why did they let us go camping alone?" At least we're still here to talk about it. Roasting marshmallows was our reward after a long day of litter cleanups. Jessie got the fire started after several attempts and burning all the cardboard we could find in the car. She flipped the cooking grate on the fire pit over to get it out of the way and the entire fire pit flipped over. It literally flipped over, hard to imagine without actually seeing it happen. We didn't even attempt a fire the second night. Despite our inconveniences we had a great time and are looking forward to coming back next year! Maybe we'll bring along our husbands to keep everything under control.
In total we did three cleanups at Sandbanks. Two along the Outlet River Beach and one at the end of Welsh Lane. It truly is amazing how much stuff washes up, especially when the water levels are high. In total we picked up 1,869 pieces from the three locations, including four syringes. Tampon applicators were also very prolific here, we picked up 39. Many people still don't realize that they are not to be flushed. They enter the lake through our sewer systems when there is a sewage bypass during high water levels.
Prince Edward Point
We started out at the Prince Edward Point Bird Observatory which was quite clean. There were a few spots along the shore that we could see where the water level rose and debris was left behind. We picked up a few baby toys, plastic pieces, and a potato peeler. We heard and saw quite a few interesting birds which we could not identify. We'll have to brush up on our birding skills. We carried on with our cleaning efforts in the National Wildlife Area along the shoreline. This is where we found 259 pieces of litter ranging from food packaging to plastic pieces and foam. We were in a spot that wasn't very accessible which means there probably aren't too many visitors. A majority of the litter we picked up has washed up from other places. This was the case in many of the PEC locations that we cleaned up. But where is it coming from? All over Lake Ontario including New York State. We've found several shipping container tags that have destinations different from where they were found. Our waste can unintentionally end up in the Lake.
Ostrander Point
What a wild ride! To get to this cleanup we took dirt roads, passed through big puddles, and when the road turned into a single laneway we had to drive through the grass to let a truck go by, eventually we reached some deep mud and had to walk the rest of the way to the shoreline. But we're so glad we didn't turn around. There's a small (possibly abandoned) community right on the water. We picked up a record breaking five helium balloons along with 235 other items.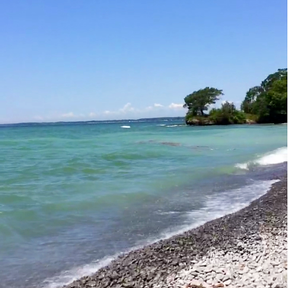 Point Petre
Is this a tropical paradise? Nope, but it sure looks like one! This cleanup was surprising. It looks to be a place that doesn't have very many visitors, but there was more litter than we could possibly pick up in a day. A majority of this has been washed up, but there was evidence of a bonfire with drinks on the beach. We picked up 613 pieces of litter, mostly plastic. By the end of it you wouldn't even know we had been, there was still so much to pick up!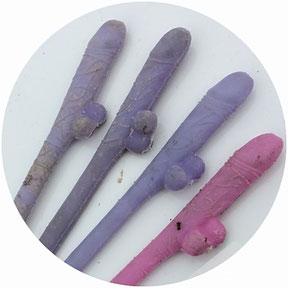 Millennium Lookout
This was our last stop in PEC before boarding the Glenora Ferry and heading towards Kingston. It was a quick cleanup, 201 pieces picked up mostly in the parking lot. The most interesting find was four penis straws, it seems there may have been a bachelorette party at the park. There was also evidence of people dumping their ashtrays in the parking lot and potted plants. Cigarette butts are litter. Don't let me catch you chuck that butt.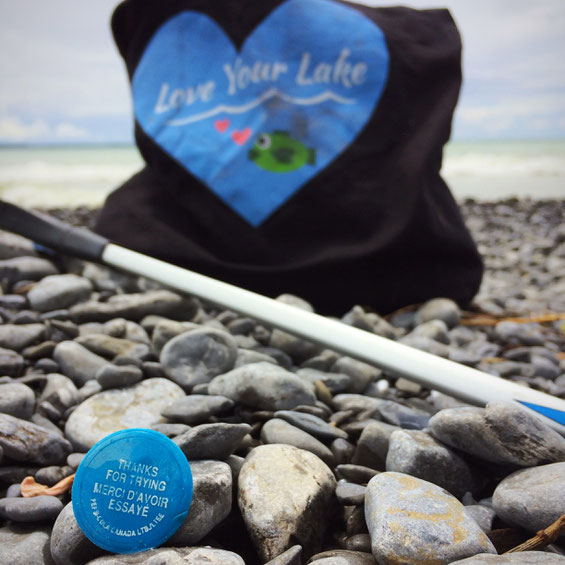 As we departed PEC we had feelings of sadness, excitement, and accomplishment. Sadness because we didn't want to leave this beautiful region on Lake Ontario. Excitement because we were headed to our next and final stop of the project. And accomplishment because the two of us picked up 4,458 pieces of litter in just three days. 
We can't wait to explore Prince Edward County again during Love Your Lake next year. We will definitely be staying a night at The Edward, camping at Sandbanks, taking a wine tour, and soaking in the beauty of this magical place.
Although we may not have picked up all the litter in PEC we put a small dent in it. In one spot that was filled with thousands of pieces of litter I picked up the inside of a pop bottle cap and the little plastic circle read "THANKS FOR TRYING." To me this was the Lake saying thank you. I'm going to hold on to this souvenir and come back and try again next year.
For more information about the Love Your Lake project click here! If you have a question or would like to get involved in next year's project send us an email or sign up for our monthly newsletter to be the first to know when registration opens.